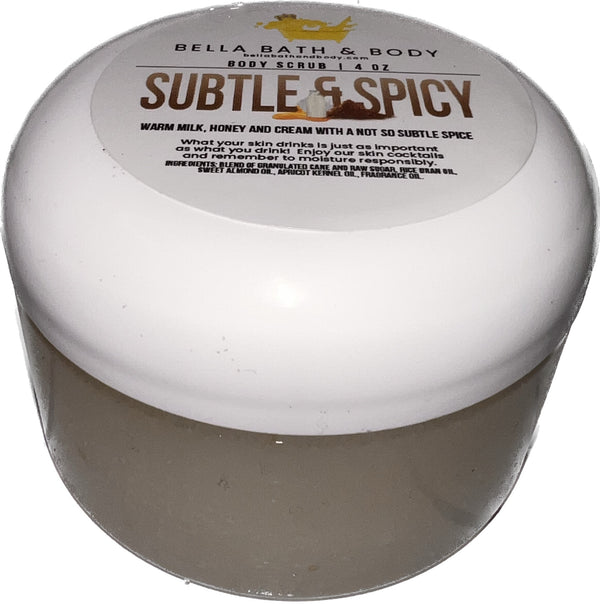 Our traditional body scrubs are a combination of our triple oil blend and pure cane sugar that partner for an amazing exfoliation.
Our sugar scrubs are a great option to add to your skin regimen or to help you start one. It's a great balance of exfoliation (sugar) and hydration (rice bran oil, sweet almond oil and apricot kernel oil).  Exfoliation is an essential step in creating and maintaining a clear and bright complexion. A good sugar scrub will remove the top layer of dead skin cells as well as impurities from your pores, encouraging the production of new, healthy cells. Therefore, helping clear your skin all over your body.
Your skin will immediately feel soft, smooth and silky. Our scrubs not only help to remove dead skin cells from your face, lips and even your body to restore and refresh tired, clogged pores, it's also a natural humectant. You can choose between an all natural option with or without essential oils or an amazingly scented option. The blend of oils we use seal in moisture while the scrub help remove dead skin and rejuvenates the skin by cleaning impurities from the skin.
Remember to always use a circular motion when applying the sugar scrub.  On your face use small gentle circles without applying much pressure and let the sugar do its job.
Our sugar scrubs are safe for all over body use but not recommended for your face because it has fragrance oils in it as well as raw sugar which can be too coarse for your face. We do offer facial scrubs that have added vitamins, nourishing oils and botanical extracts. We can adjust any scrub ordered based on your request ie don't add raw sugar.
We recommend exfoliating twice a week, once a week if you have sensitive skin. 
Patch test if you have concerns about how your skin will respond. You should do this with any new skin care products you purchase before introducing new products into your skincare routine.
Ingredients:
Not so natural option: Fine granulated cane sugar, raw sugar, apricot kernel oil, sweet almond oil, rice bran oil, fragrance oil and of course love.
All natural option: Fine and extra fine granulated cane sugar, apricot kernel oil, sweet almond oil, rice bran oil and essential oil. 
How to use: After you've cleansed your skin apply a small amount to your palm, massaging gently into skin using a circular motion, concentrating on rough, dry areas. As a hand treatment, rub palms together to create gentle warmth, massage gently into top of hands and cuticles.
Allow the scrub to rest on skin for sixty seconds to promote deep hydration. Rinse skin thoroughly with warm water and pat dry.
Moisturizing after use is optional. Be careful around wet surfaces, scrub is slippery when wet.
Available in 2oz, 4oz and 8oz.
Please always keep are containers closed tight and in a cool place, this will impact your products shelf life.  Remember very few of our products contain a  preservative (lotion, body polish, etc)
All products are custom made and the color, potency of scent or texture may vary from order to order. If you have a request: no glitter, extra glitter, no color, etc please let us know. 
Feel free to email us with any questions.
For more information regarding product details please click this link: https://bellabathandbody.com/pages/more-about-our-products
Remember what your skin drinks is just as important as what you drink! Enjoy our skin cocktails (a little goes a long way) and your skin will thank you.