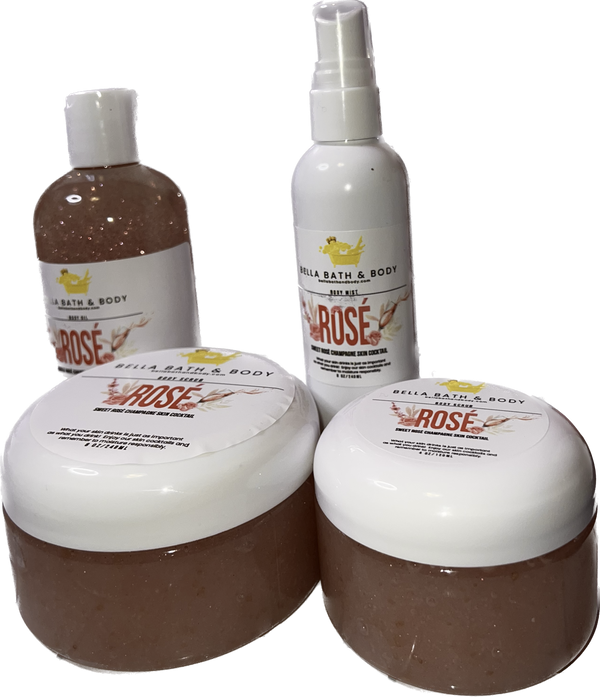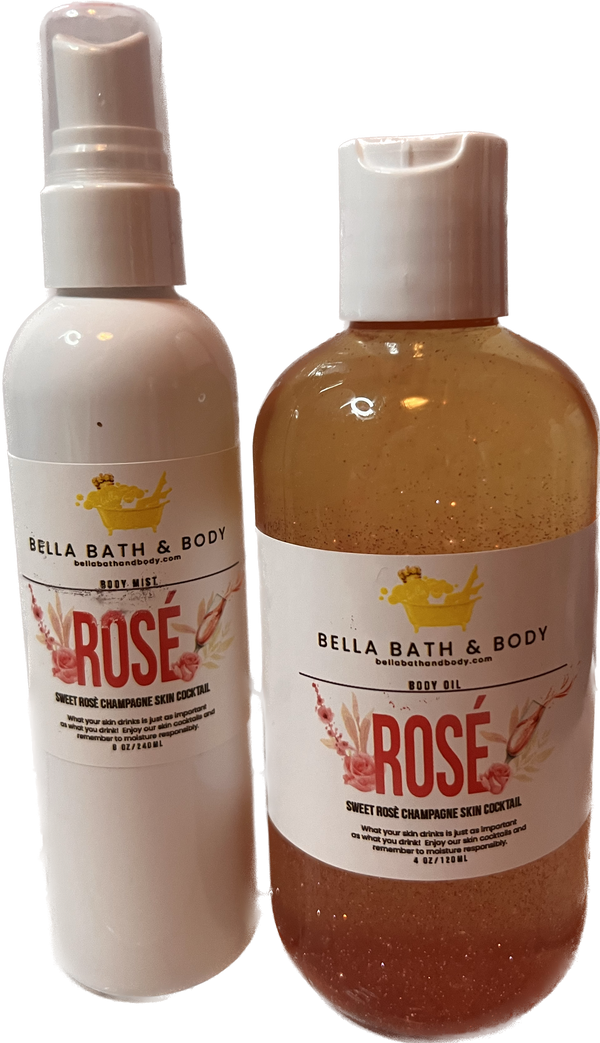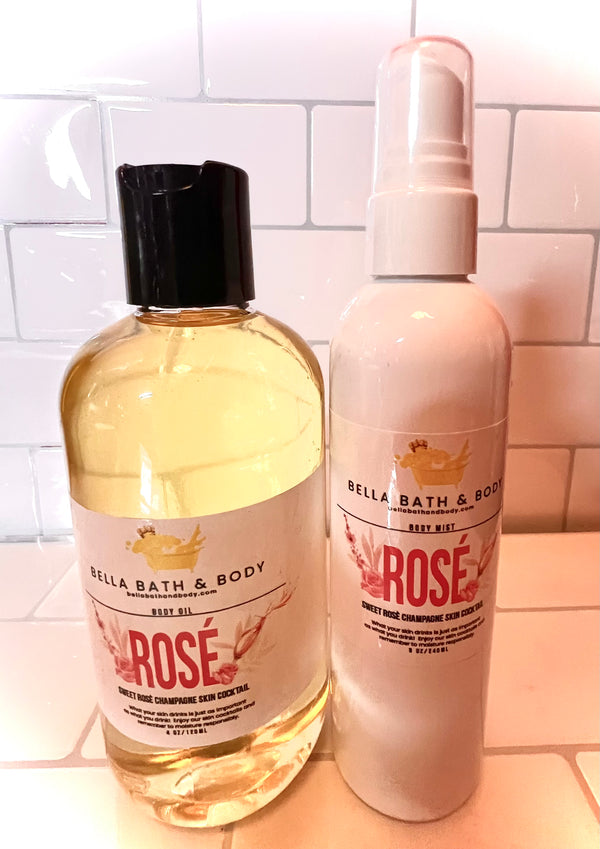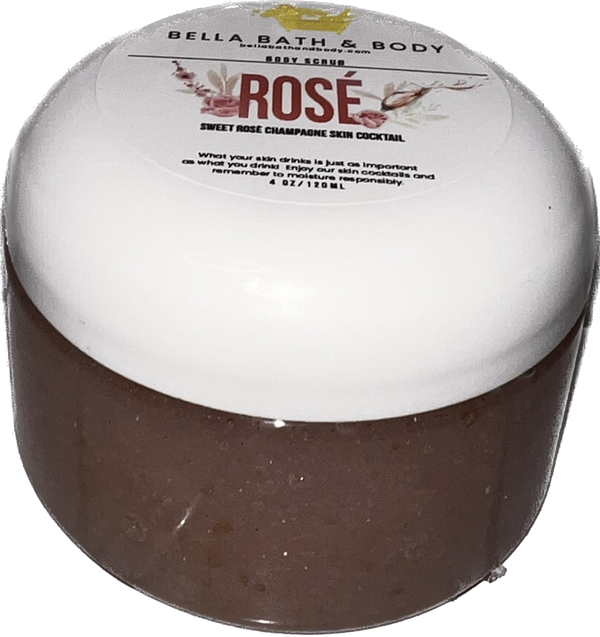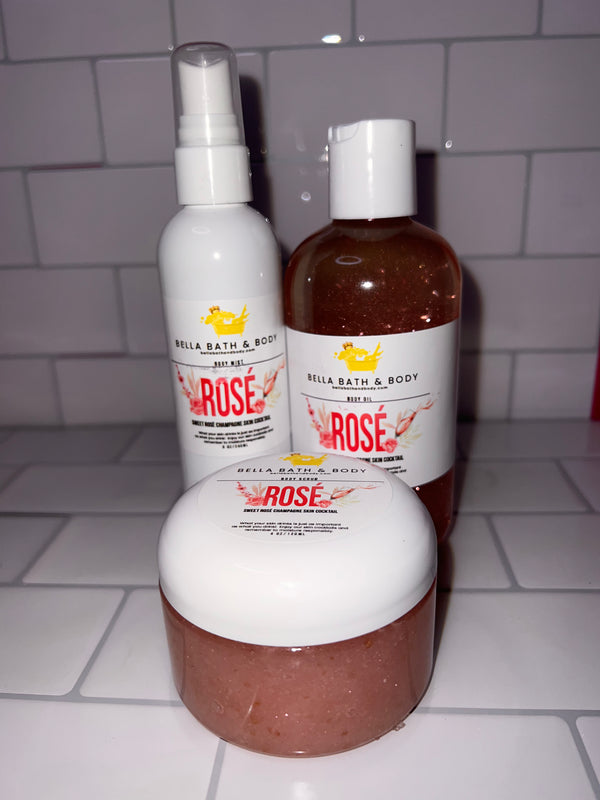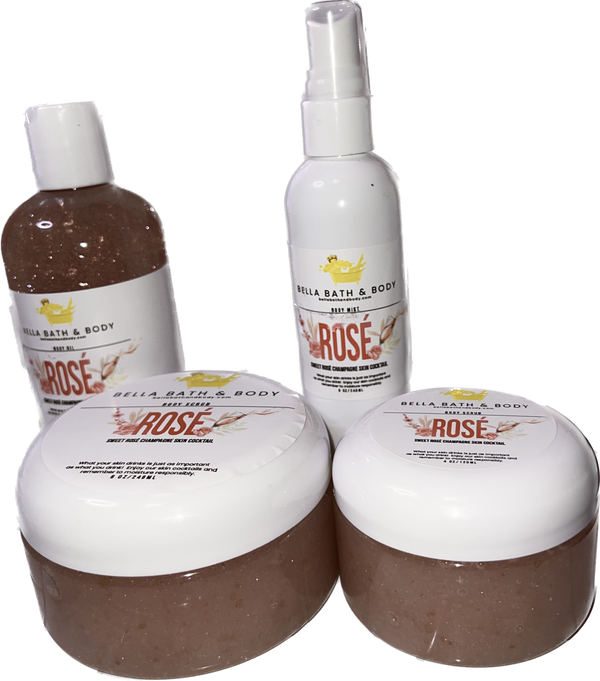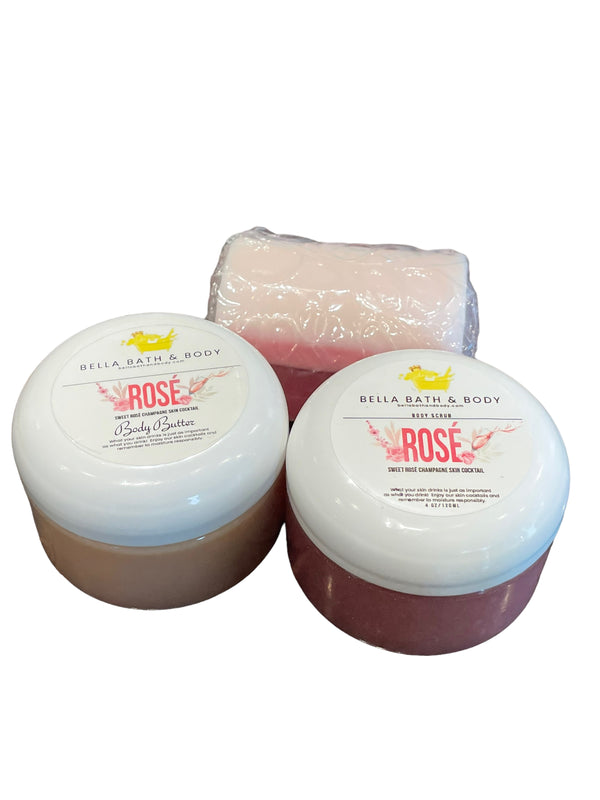 Rosé is a our second floral scent.
Rosé is a lightly sweet, lively, fresh blend of white wine complemented by delicate blooms and soft fruits.
Rosé is perfect for layering with your favorite perfume or cologne and is available as a soak, sugar scrub, body butter, body oil, body mist, cuticle oil or lotion.
Our body butter is a blend of whipped cocoa, shea and mango butter, it deeply penetrates to moisturize and nourish the skin. With the help of coconut oil this body butter is a great moisturizer. A splash of vitamin e oil and a twist of evening primrose, green tea and dulse extracts immediately improve your skins hydration. This body butter is filled with antioxidants that will work to keep the skin youthful.Our body butter is great for dry skin as well as skin conditions such as eczema, rosacea and acne, we have all natural and almost natural (with fragrance) options.

Our body oil is an amazing skin cocktail that allows you to moisturizer responsibly and smell great. The oil blend (rice bran, sweet almond oil and apricot kernel) we've created is light and hydrating. It's non greasy and contains no mineral oil. It's also great for a variety of skin types. It's packed with linoleic and oleic acids, vitamin e and anti-oxidants. 
Our sugar scrub is the right balance of exfoliation (sugar) and hydration (oil triple oil blend) fused with this amazing tropical fragrance.

Our lotion will quench your skins thirst immediately. Use daily for glowing, rejuvenated skin.
Our body mist is made for you but we love to spray it on our sheets, in the car and anywhere a little smell good is needed. It's great alone or when layering with your favorite perfume or cologne  
We suggest mildly shaking your mist to redistribute your fragrance (remember these are handmade)  
Please always keep are containers closed tight and in a cool place, this will impact your products shelf life.  Remember very few of our products contain a  preservative (lotion, body polish, etc)
All products are custom made and the color, potency of scent or texture may vary from order to order. If you have a request: no glitter, extra glitter, no color, etc please let us know. 
Feel free to email us with any questions.
For more information regarding product details please click this link: https://bellabathandbody.com/pages/more-about-our-products
Remember what your skin drinks is just as important as what you drink! Enjoy our skin cocktails (a little goes a long way) and your skin will thank you.
Customer Reviews
100
reviewers would recommend this product
Write a Review
07/25/2023
Anonymous

United States
I recommend this product
Rosé body products
I was someone who would drive from New Jersey to Brooklyn to shop at CAROLS DAUGHTER when she selling from her home. BELLA BATH & BODY reminds me of the high quality that was used back in the day The ROSÉ items are: Body Butter Scrub Body Oil Body Spray TRIPLE BUTTER SOAP also SUGAH TRIPLE BUTTER SOAP SWEET LULU BODY POLISH One thing I do love especially is the scents are strong but not overpowering or overwhelming. All of it is just perfect