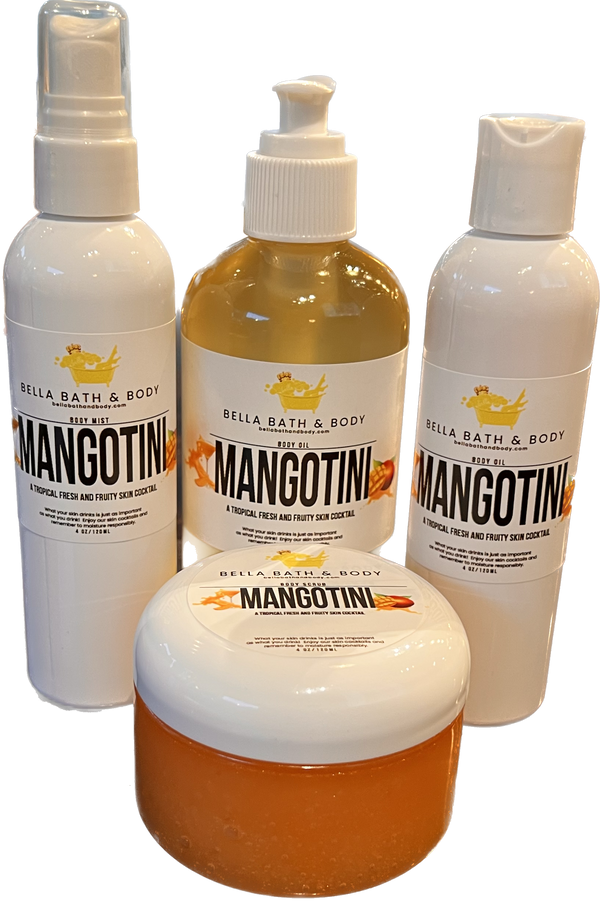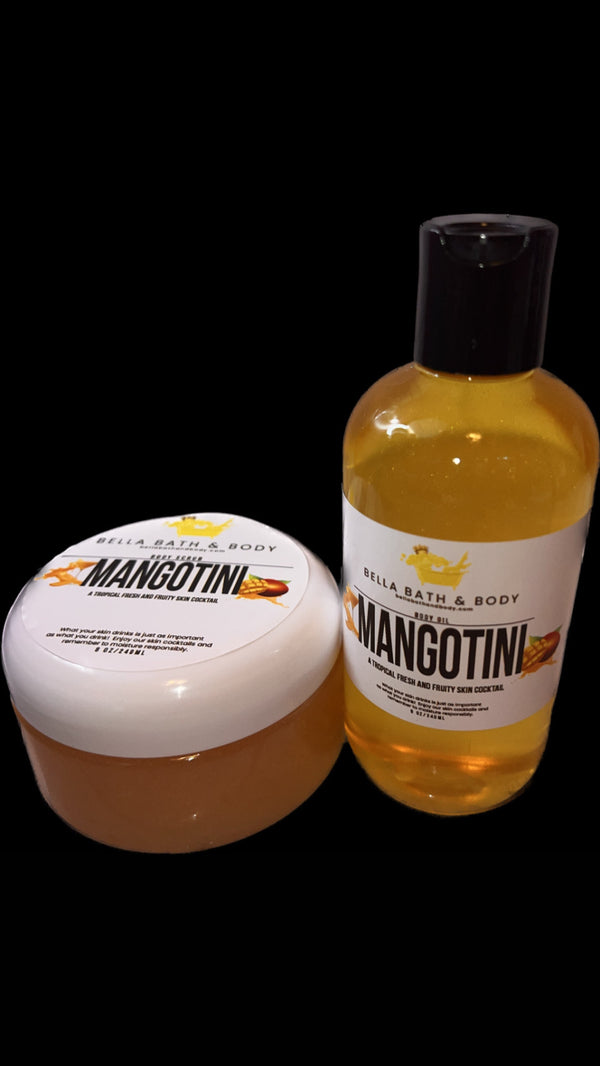 Satisfy your senses with a light, sweet tropical fragrance when you use Mangotini - the perfect skin cocktail that's delightfully fresh and fruity!As with all of our products, a little goes a long way with this delightful subtle fruity mango scented cocktail available as a sugar scrub, soak, body butter, body oil or lotion.

The Mangotini body butter is a whipped blend of cocoa, shea and mango butter, it deeply penetrates to moisturize and nourish the skin. With the help of coconut oil this body butter is a great moisturizer. A splash of Vitamin E oil and a twist of evening primrose, aloe, dulse and other nourishing extracts immediately improve your skins hydration.  This body butter is filled with antioxidants that will work to keep the skin youthful. Our body butter is great for dry skin as well as skin conditions such as eczema, rosacea and acne, we have all natural and almost natural (with fragrance) options.
Our Mangotini body oil is an amazing skin cocktail that allows you to moisturizer responsibly and smell great. The oil blend we've created is light and hydrating. It's non greasy and contains no mineral oil. It's also great for a variety of skin types. It's packed with linoleic and oleic acids, vitamin e and anti-oxidants.
Our traditional sugar scrub is the right balance of exfoliation (sugar) and hydration (our triple blend of oil) fused with this amazing subtly sweet fragrance.
Our lotion will quench your skins thirst immediately.
Our soak will relax and detox your skin and muscles as well as leave your skin soft and hydrated.

Our body mist is made for you but we love to spray it on our sheets, in the car and anywhere a little smell good is needed. It's great alone or when layering with your favorite perfume or cologne  
We suggest gently shaking your mist to redistribute your fragrance (remember these are handmade)  
Please always keep are containers closed tight and in a cool place, this will impact your products shelf life.  Remember very few of our products contain a  preservative (lotion, body polish, etc)
All products are custom made and the color, potency of scent or texture may vary from order to order. If you have a request: no glitter, extra glitter, no color, etc please let us know. 
Feel free to email us with any questions.
For more information regarding product details please click this link: https://bellabathandbody.com/pages/more-about-our-products
Remember what your skin drinks is just as important as what you drink! Enjoy our skin cocktails (a little goes a long way) and your skin will thank you.