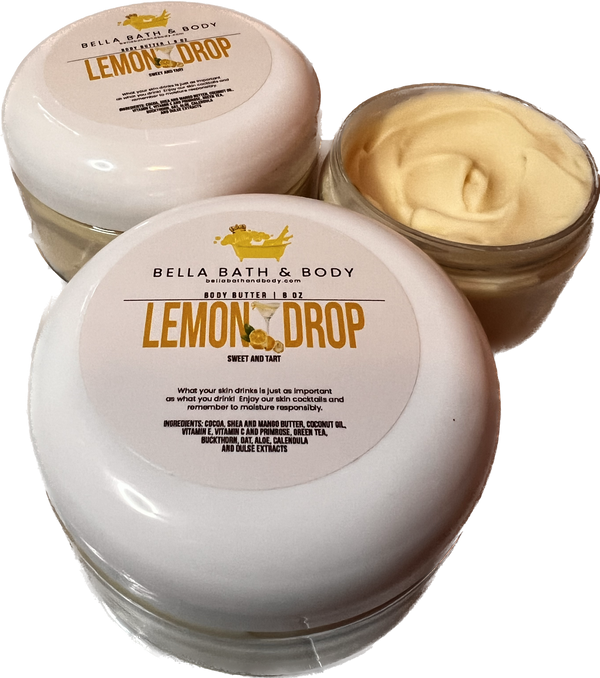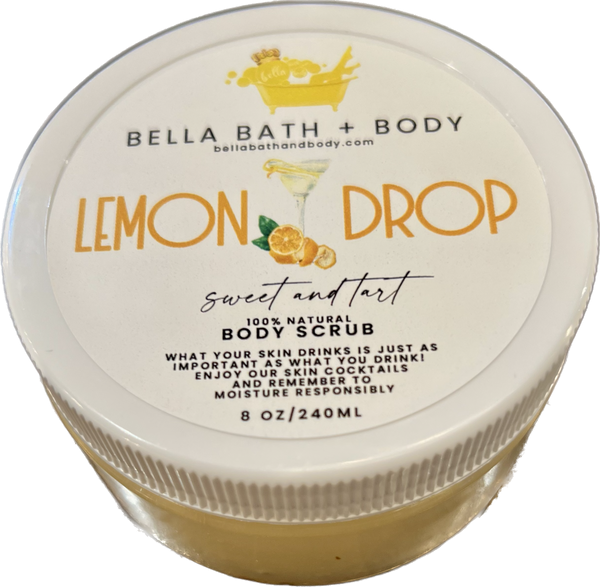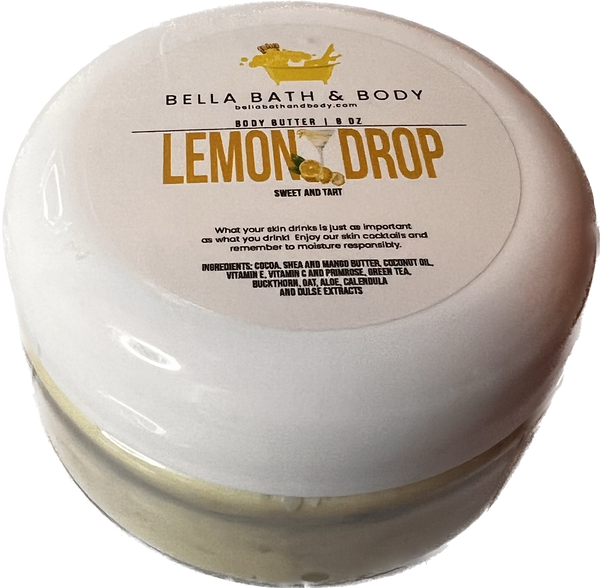 Discover the amazing skin benefits that lemons offer with Lemon Drop! Our natural products will reset, refresh and soften your complexion while promoting radiance and smoothness. Unbelievably, lemons are the secret to a bright and clear visage; full of Vitamin C and antioxidants, citrus helps reduce and prevent hyperpigmentation.
Treat your skin with this 100% all natural handmade lemon drop products packed with all natural essential oils, botanical extracts, butters and oils. The combination of butters will not only soften, smooth and moisturizes your skin, but with regular use this natural moisturizer can relieve minor skin irritations and skin conditions such as blemishes, wrinkles, and eczema. This butter or body oil is great if your skin is dry and itchy skin or if you are looking for a natural moisturizer. Pair this butter with our sugar scrub and lets just say your skin will thank you.
Lemons can help:
* Healing acne and remove blackheads
* Lighten dark spots and blemishes
* Prevent oily skin
Lemons naturally contains vitamin C, an antioxidant that may help reduce skin damage and premature aging.
Lemons contain antibacterial properties (which is why the juice is a great cleanser), helping fight the bacteria agents causing your breakouts. It also acts as a natural exfoliator — removing dead skin cells that can clog your pores — as well as a great oil-eliminator.
All of our Lemon Drop products contain granulated lemon. peel.
Our body butter is a blend of whipped cocoa, shea and mango butter, it deeply penetrates to moisturize and nourish the skin. With the help of coconut oil this body butter is a great moisturizer. A splash of vitamin e oil and a twist of evening primrose, green tea and dulse extracts immediately improve your skins hydration. This body butter is filled with antioxidants that will work to keep the skin youthful. Our body butter is great for dry skin as well as skin conditions such as eczema, rosacea and acne, we have all natural and almost natural (with fragrance) options. 

Our traditional Lemon Drop sugar scrub offers the ideal mix of exfoliation (lemon seeds and sugar) and hydration (our three-oil blend) plus a delightful clean aroma.

Our lotion will quench your skins thirst immediately. Use daily for glowing, rejuvenated skin.
Our body mist is made for you but we love to spray it on our sheets, in the car and anywhere a little smell good is needed. It's great alone or when layering with your favorite perfume or cologne .

Our soak will relax and detox your skin and muscles as well as leave your skin soft and hydrated.

We only recommend using our natural products on your face please view our facial products for more details.

All products are custom made and the color, potency of scent or texture may vary from order to order. If you have a request: no glitter, extra glitter, no color, etc please let us know. 

Feel free to email us (info@bellabathandbody.com) with any questions.
For more information regarding product details please click this link: https://bellabathandbody.com/pages/more-about-our-products
Remember what your skin drinks is just as important as what you drink! Enjoy our skin cocktails (a little goes a long way) and your skin will thank you.